Dorsey Shaw, an editor at Buzzfeed, posted this image the other day, with the caption: "Never ever ever ever try to get a job with an email like this. Not ever."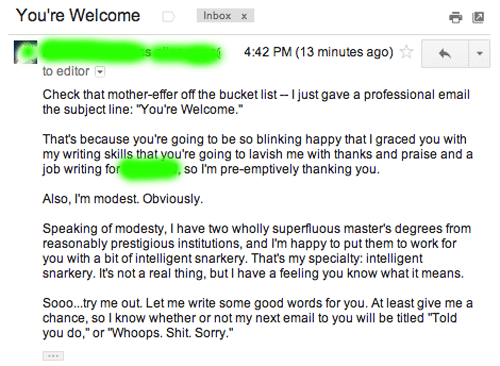 We have to agree.
For the purposes of this blog post, we're going to assume that this e-mail was sent to Shaw and that the applicant was trying to get an in at Buzzfeed, though we don't know for sure that that's the case. But assuming as much…
First, the applicant didn't manage to understand the "reverse mullet" concept (that a company that projects a "party" front might be all business in the back). But really? No company wants to get arrogance as a substitute for funny.
Even obviously tongue-in-cheek as it is, this e-mail exudes arrogance.
Congrats to the writer for trying something different. Honest. But dude (or dudette), tone it down just a teensy bit next time.
Here's an excerpt from a representative Buzzfeed job ad (this one in the company's music vertical):
BuzzFeed's music vertical needs a hard-working associate editor for a full-time paid position in the New York office. The person will work closely with the music editor on research, content creation, and idea generation. We're a new kind of media company for the social world. Our technology powers the social distribution of content, detects what is trending on the web, and connects people in realtime with the hottest content of the moment. Our site is a rapidly growing hub for media that reaches over 25 million monthly unique visitors.

This is an excellent opportunity to work on a fast-paced, quickly growing site in its beginning stages and add clips to a portfolio. All candidates should have an open mind about a wide range of music, a sense of humor about music and pop culture, and an interest in covering music in a way that is accessible, appealing, and not at all snobbish.
Pretty sober, right? This from a site whose current front page story (as of the time of writing this) is "When Seals Open Their Mouths They Look Like Someone Just Said Something They're Horribly Offended By." Pretty stark contrast.
When you write your cover letters, try to match the company culture, not what you think it might be by looking at their website.
As a side note, that job is, as of press time, still open, as are many other jobs on the editorial side….good luck!